Industrial Flask, Inc. was founded in 1974 by Clarence Mollett. Clarence was the first to repair urethane-lined flasks (other than the OEM). He recognized that Beardsley-Piper was either unable or unwilling to dedicate enough resources to insure the flasks were repaired/replaced in a timely (and affordable) manner. This gap in service left foundries in a bad position and, as a result, half-million dollar projects were left functioning well below optimal levels...or not at all.

Through the years, quite a few improvements to the process have been made resulting in greatly extending the life of the flasks. Today, our flask repairs are second to none. We turn the flasks around in a timely manner, we try to keep repaired flasks on the shelf for those emergency shut-down situations, and our flasks outlast any on the market today.

Our current President, Dan Schalck, has been involved in the foundry industry since 1984. He started his foundry exposure right here at IFI, where he worked under Clarence for about 5 years. He then left IFI and went to work for a local foundry for about 8 years. He ultimately rose the position of Foundry Manager, then Manager of Manufacturing tasked with the responsibility of operating 3 foundries under 2 roofs, as well as full machining capabilities at an additional location. In 1996, Clarence decided to retire. So, Dan Schalck then came back and took over as President of Industrial Flask, Inc., and has been here continuously since that time.

It was Dan Schalck that expanded into building tooling to address a similar need for the Roberts-Sinto molding machines. We have greatly expanded our inventory of repair parts, bought out a competitor, and now we are rebuilding entire BP machines...see further sections of this web-site for more detail.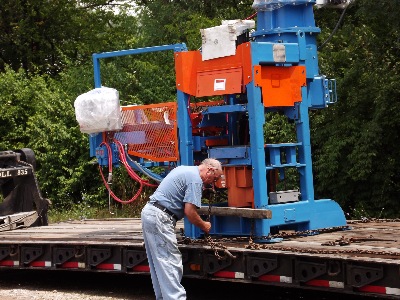 Thank you for visiting us-we sincerely hope we can be an asset to your operation.

This machine, being loaded for shipment, was completely re-built at IFI.